Come Play With Us At Doggie Day Care!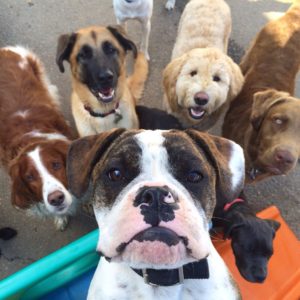 Raleigh and Garner's Premier Dog Day Care Facility
What does your dog do when you're at work or running errands all day long? Chew on your sofa pillows or your favorite pair of shoes? Tear your laundry apart? Lay around bored and lonely, waiting at the door for you to come home?
At The K9 Kabana – Garner, Raleigh, Cary, Fuquay-Varina and Clayton's leading doggy day care service – we give your baby the exercise, mental stimulation, and socialization they need during the day. Your dog is a beloved member of the family, and treating them hours of dedicated daily attention, snuggling, and play is just what they need to be a happier, healthier pet!
Playtime – Unleashed!
We don't use runs or cages for daily play – we know that dogs are happiest when they have plenty of room for exercise, fun, and games. Our dog day care facility in Garner offers ten thousand square feet of indoor space and over a half acre of outdoor space, suited for playful puppies, golden oldies, and dogs of every activity level in-between.
The K9 Kabana is one of the largest dog day care centers the Raleigh area, with designated areas for active kids who like having space to run, jump, and socialize, as well as spaces for shy dogs or older dogs to take a break and unwind by themselves. Throughout the day, your baby will get quality one-on-one time with our dedicated staff.
A Safe Place For Daytime Playtime
The K9 Kabana is committed to providing a safe space for your dogs, which is why all of our guests are required to be up to date on vaccinations and free of ticks and fleas when they come to play.

We also believe playtime shouldn't get too "ruff." That's why we offer free temperament evaluations that allow us to get to know your dog and for them to become familiar with our facility and staff before we decide if they are a good fit for our doggy day care program. Most pups have a bark that is worse than their bite, but dogs that are overly territorial or aggressive will not be welcome in our day care facility.
Our spacious play yards are always monitored by staff that have been trained to supervise multiple dogs at once. We also offer live webcam streaming straight to your smartphone or tablet, so you can keep an eye on your pets at play in our doggy day care center in Garner no matter where you are.
Comfortable For Them, Convenient For You
Our doggy day care facility is conveniently located in Garner, just minutes from downtown Raleigh. We're open from 7 A.M. – Noon and 2 P.M. – 7 P.M. on weekdays and 9 A.M. – Noon and 2 P.M. to 5 P.M. on weekends, giving you the flexibility to drop off or pick up your pet around your busy schedule.  We are always closed from 12 – 2 P.M.
Worried you won't have the time to drop your buddy off and beat traffic to the office? No problem! We offer transportation to and from doggy day care, saving you the trip. Starting at $10 each way, our K9 Koach will deliver your best friend from door to door in our comfortable, secure, and climate-controlled tour bus.
Our Trustworthy Team Treats Your Doggy Kid Right
When it comes to entrusting the care of your pet to someone else, you don't want to settle for anything less than excellence. At The K9 Kabana, we are committed to making sure every owner feels confident knowing their baby will enjoy a safe and fun-filled stay.
Our trained team will do everything we can to make your dog feel comfortable and well-cared for. We specialize in giving your dog all the care they need to keep them active, happy, and healthy – from one-on-one interaction and group playtime, to nap time and simple TLC.
Ready to treat your baby to the best doggy day care in Garner, Raleigh and the Triangle?