At The K9 Kabana – Being "Board" Is Fun!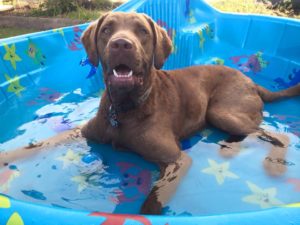 Raleigh and Garner's Best Dog Boarding Facility
Heading out of town on business or taking the family on a much-needed vacation? As much as you would love to bring your favorite four-legged family member with you, it's not always possible.
At The K9 Kabana, our highly trained team has a passion for caring for dogs and will treat your pup like one of their own. Whether you need to leave your dog for one night or longer, we offer a number of boarding options. Our team will give them the play, care, and attention they deserve – so you can feel comfortable knowing your baby will be happy and healthy when you return.
A Safe Place to Play While You're Away
We pride ourselves on providing a safe environment for dogs of all breeds, sizes, and personalities. Before we book any dogs for an overnight stay, our team will provide a free temperament test to evaluate if they are a good fit for our open play facility. We also require that all pets that stay with us are up to date on vaccinations and free of ticks, fleas and other contagious illnesses.
For many dog parents, leaving their baby for more than a few hours can be a stressful experience. That's why we offer complimentary webcam streaming at our Garner dog boarding facility, so you can check in from a distance using your smartphone or tablet. Tune in at your convenience to catch them having fun and making new friends.
Plenty of Room to Roam
Many traditional kennels leave their visitors in crates for most of their stay, with little time for play. At The K9 Kabana, we know pets are happiest with lots of room to run, play, and socialize with other friends. Our facility in Garner boasts ten thousand square feet of indoor space and more than half an acre of outdoor activity space for exercise, fun, and games.
Our indoor and outdoor spaces are designed to accommodate dogs of every age and activity level, from energetic puppies to more mellow, senior dogs. Whether your buddy likes to run and play with friends all day or prefers to relax in the shade, you can feel comfortable knowing they have plenty of space to do what they enjoy most.
Hassle-Free "Home Away From Home"
You don't have to go very far to experience the best pet resort in the area! Our doggy day care facility is conveniently located in Garner, just minutes from downtown Raleigh.
Between packing your suitcase and checking in for flights, getting ready for a trip can be hectic. Don't let dropping your baby off at our kennel weigh heavy on your mind. Starting at $10 each way, you can rely on the K9 Koach to deliver your dog from door to door. Our tour bus is spacious and comfortable, with climate-controlled crates designed to keep your baby safe during transport.
A Boarding Program Fit for Man's Best Friend
Your dog is an important member of your family. We understand that you don't want to leave them, unless you know that they'll be on the receiving end of lots of love and attention while you're away.
At The K9 Kabana, we've been raising the bar on the best boarding for dogs in Garner and Raleigh for years. Our award-winning program specializes in keeping your kid active, happy, and healthy while you're gone, and our highly-trained team of dog lovers are committed to showering them with one-on-one attention during their stay.
Leave your dog in hands that know just how to make their tail wag while you're away! Book your pet's stay at the best dog boarding facility in Garner, Raleigh, Cary, Fuquay-Varina and Clayton.